Daniel D. Simjanovski
Education/Certifications

J.D., Wayne State University Law School
Master of laws (LL.M.) in estate planning, University of Miami School of Law.
Master of finance, Walsh College
Bachelor's degree in accounting, Walsh College
Certified civil mediator pursuant to the requirements of the Michigan State Court Administrative Office
Certifications of completion through the state bar's Probate and Estate Planning Program and the Institute of Continuing Legal Education

Memberships/Associations

State Bar of Michigan
Macomb County Bar Association
Macomb County Probate Bar Association
Wayne County Probate Bar Association
United States District Court for the Eastern District of Michigan
United States Court of Appeals for the Sixth District
President of the St. Mary's Macedonian Orthodox Church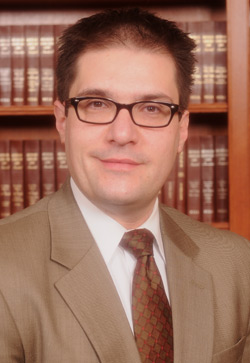 Daniel D. Simjanovski has had an of-counsel relationship with Femminineo Attorneys since 2004. His primary areas of focus include probate administration, estate planning, trust administration, tax planning, and business planning.
An active member of the State Bar of Michigan – particularly the probate and estate section and the elder law section – Mr. Simjanovski also holds annual certifications of completion through the state bar's Probate and Estate Planning Program and the Institute of Continuing Legal Education. He is a member of the Macomb County Bar Association, the Macomb County Probate Bar Association, and the Wayne County Probate Bar Association, and has been admitted to practice in Michigan state courts, the United States District Court for the Eastern District of Michigan, and the United States Court of Appeals for the Sixth District.
Mr. Simjanovski has a bachelor's degree in accounting and a master of finance from Walsh College. He earned his J.D. from Wayne State University Law School and a master of laws (LL.M.) in estate planning from the University of Miami School of Law. He is fluent in Macedonian, Serbian, and Bosnian languages.
A resident of Macomb County for 32 years, Mr. Simjanovski has been a business owner in the county since 1991 and proudly serves as president of the St. Mary's Macedonian Orthodox Church. Certified as a civil mediator pursuant to the requirements of the Michigan State Court Administrative Office, he is also a volunteer mediator for the Resolution Center of Macomb County.
Michigan Courts Located in the Metro Detroit Area that we visit regularly:
Macomb County Courts

Armada
Armada Township
Bruce Township
Centerline
Chesterfield Township
Clinton Township
Eastpointe
Fraser
Harrison Township
Lenox Township
Macomb Township
Mt. Clemens
New Baltimore
Romeo
Roseville
St. Clair Shores
Sterling Heights
Shelby Township.
Utica
Warren
Washington Township

Oakland County Courts

Auburn Hills
Berkley
Beverly Hills
Bingham Farms
Birmingham
Bloomfield
Bloomfield Hills
Farmington
Farmington Hills
Ferndale
Franklin
Hazel Park
Huntington Woods
Lake Angelus
Lake Orion
Lathrup Village
Madison Heights
Oak Park
Orchard Lake
Rochester
Rochester Hills
Royal Oak
Royal Oak Twp.
Southfield
West Bloomfield