Jacob Michael Femminineo, Jr.
Education/Certifications

Juris Doctorate, Detroit College of Law
Bachelor's in political science, Wayne State University
Graduate of De La Salle Collegiate High School
Certified Domestic Mediator
Domestic Violence Screening Certificate

Memberships/Associations

State Bar of Michigan
Macomb County Bar Association
Italian American Bar Association
Italian American Chamber of Commerce
Italian American Cultural Society
The Knights of Columbus

Awards

2009 – Kenneth L. Rancilio Memorial Award (Italian American Bar Association)
2005 – Macomb County Bar Association Appreciation Award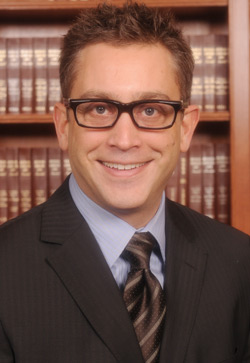 You might recognize Jacob M. Femminineo, Jr. from the cover of the Yellow Pages or the many times he has been in the Macomb Daily, but what you'll remember him by is his noteworthy confidence and dedication to Macomb County.
A lifelong resident of Macomb County, Mr. Femminineo currently resides in Mt. Clemens, within walking distance of his law office. He takes great pride in his community and has made it his duty to serve the area beyond his role as a practicing attorney.
In 2008, Mr. Femminineo was elected as the Mt. Clemens Charter Commissioner for District 17. He was then elected by the Commission as their Chair, a role in which he oversaw the entire process of creating the Charter, a constitution for Macomb County. Ultimately it was approved by Governor Granholm and passed 60-40 by the people. Currently on the Mt. Clemens Planning Commission, Mr. Femminineo was appointed to the role by Mayor Dempsey in 2007.
Mr. Femminineo has practiced law in the state of Michigan since 1995. He and his brother David followed in the footsteps of their father Jacob Sr. who was a practicing attorney in the county for nearly three decades.
Mr. Femminineo's focus is on family law and he has extensive experience handling cases regarding divorce, paternity, custody, support enforcement, parenting time, motions, and post-judgment actions. He also works in the area of criminal law and other general law issues.
People like to say that a good attorney knows the law and a great attorney knows the judge. In Mr. Femminineo's case, both classifications apply. Widely known for his professionalism and solid reputation with the bench as well as his colleagues, Mr. Femminineo is especially adept at putting his clients at ease on his playing field – the courtroom. He has conducted numerous successful trials, evidentiary hearings, mediations, and FOC hearings.
Along with his community activities, Mr. Femminineo is an active member of the Macomb County Bar Association (MCBA), having served as president – the youngest in the organization's more than 100-year history – as well as director, chair, treasurer, secretary, and president-elect. He has been a trustee of the Macomb County Bar Foundation for over 10 years.
Mr. Femminineo earned his Juris Doctorate in 1995 from the Detroit College of Law and was admitted to the State Bar of Michigan the same year. His law school externship was with the Macomb County Circuit Court and Judge Raymond R. Cashen, as well as the county's prosecutor's office. He has a B.A. in political science from Wayne State University and is a graduate of De La Salle Collegiate High School. He is currently pursuing a master's degree in public administration.