James A. Tanielian
Of Counsel
Education/Certifications

J.D., Detroit College of Law
Bachelor of Science, with honors, from Michigan State University
Trial attorney certification, Institute of Continuing Legal Education

Practice Areas

Workers Compensation
Social Security Appeals
Unemployment Compensation Appeals
Auto Accidents
Personal Injury

Memberships/Associations

State Bar of Michigan
Macomb County Bar Association
U.S. Federal District Court Certification
U.S. Supreme Court Certification
Michigan Trial Lawyers Association
Armenian Bar Association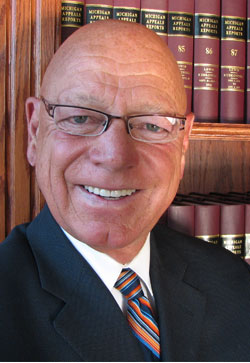 A highly respected trial attorney in the courts of Macomb, Wayne, Oakland, and St. Clair Counties, James A. Tanielian holds an of counsel position with Femminineo Attorneys. His primary areas of focus are workers compensation, unemployment compensation appeals, and social security appeals, as well as auto accident and personal injury cases.
Mr. Tanielian brings to Femminineo Attorneys a broad dimension of expertise in his areas of specialization, along with 30 years of experience practicing law. He has handled hundreds of cases in Michigan Courts, including the Michigan Court of Appeals and the Michigan State Supreme Court.
Mr. Tanielian graduated with honors from Michigan State University with a Bachelor of Science degree. He earned his J.D. from the Detroit College of Law and has been an active member of the State Bar of Michigan since 1966.
A member of the Macomb Bar Association, the State Bar of Michigan, and the Michigan Trial Lawyers Association, Mr. Tanielian previously owned and operated his own private law firm, working with and teaching dozens of lawyers how to practice law effectively and properly in the State of Michigan.
Michigan Courts Located in the Metro Detroit Area that we visit regularly:
Macomb County Courts

Armada
Armada Township
Bruce Township
Centerline
Chesterfield Township
Clinton Township
Eastpointe
Fraser
Harrison Township
Lenox Township
Macomb Township
Mt. Clemens
New Baltimore
Romeo
Roseville
St. Clair Shores
Sterling Heights
Shelby Township.
Utica
Warren
Washington Township

Oakland County Courts

Auburn Hills
Berkley
Beverly Hills
Bingham Farms
Birmingham
Bloomfield
Bloomfield Hills
Farmington
Farmington Hills
Ferndale
Franklin
Hazel Park
Huntington Woods
Lake Angelus
Lake Orion
Lathrup Village
Madison Heights
Oak Park
Orchard Lake
Rochester
Rochester Hills
Royal Oak
Royal Oak Twp.
Southfield
West Bloomfield